25.Feb./04<
Nine Inch Nails Let It Bleed
Trent Reznor and Co. cooking up a batch of "simple songs"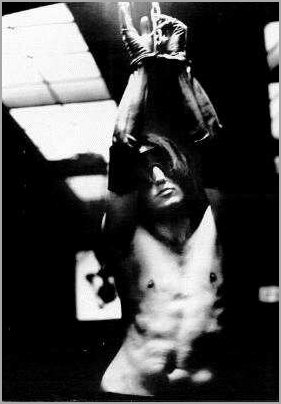 N

ine Inch Nails are at work on their fourth album,

Bleed Through

, in Los Angeles. Trent Reznor and Co. hope to finish it by summer and release it later this year.

"It's more song-oriented [than 1999's The Fragile]," says NIN mastermind Reznor. "It's much more lean. It's going to be twelve good punches in the face -- no fillers, no instrumentals, just straight to the point."

Rick Rubin (Red Hot Chili Peppers, the Beastie Boys, Johnny Cash) is producing the record. "It's kind of a new vibe this time around," says Reznor. "Different people, different approach.

While Bleed may be more streamlined than its predecessors, namely the expansive concept records 1994's The Downward Spiral and The Fragile, it won't exactly be light fare. "It's a complicated concept record," Reznor says, "but reduced to just simple songs. It's not epic in its scope. It's minimal and a bit brutal."

NIN plan to hit the road in the next few months to preview the new material. "It's been forever since we played," Reznor says. "I'm reenergized right now, my life's in order, and I'm ready to combat the shitty music that's out right now."
9.Feburar/04<

Danny Lohner talks to Kerrang! posted by Chris

An article with Danny Lohner appears in the latest issue of

Kerrang!

Magazine. He happens to spill the beans that the new NIN album may be out by the end of the year, as he is going down to New Orleans to catch up with him and see where it's at.

"Trent Reznor is like my mentor. I don't compete with him. He's on a another level when it comes to things like that." Danny Lohner, longtime bassist/guitarist/programmer with Nine Inch Nails, is aware that he's got a lot to live up to. NIN mainman Reznor famously revolutionised the art of movie soundtracks with his groundbreaking work on Oliver Stone's Natural Born Killers and David Lynch's Lost Highway. Now Lohner has followed in Reznor's footsteps and put together the soundtrack to acclaimed Brit vampire flick Underworld."

Danny goes on to discuss bits of Tapeworm and the Underworld soundtrack. In other news, NothingStudios.com has opened up in case any of you need a place to record an album or play vintage video games and watch TiVO.
7.Februar mtv.vom about "Bleedthrough":
Nine Inch Nails mastermind Trent Reznor is in Los Angeles writing songs for his next record, the follow-up to his 1999 double album, The Fragile. Veteran producer Rick Rubin will likely work with Reznor on the record. No release date has been scheduled. ...
Bleedthrough-Album

Visions - Article (GERMAN)

about Bleedthrough:



BLUTIGES COMEBACK

Rund fünf Jahre nach "The Fragile" wird im Frühjahr wohl endlich ein neues Album von NIN erscheinen.



Lange Zeit hat man nichts gehört von Trent Reznor, in absehbarer Zeit dürfen sich Fans von NIN aber wohl über seine Rückkehr freuen.Nach letzten Informationen soll irgendwann zwischen Februar und April das neue Album erscheinen, das vermutlich "Bleedthrough" heißen wird. Nach dem Reznor in letzter Zeit häufiger äußerte, das er mittlerweile vom derzeit grassierenden Soundperfektionismuss angeödet sei ("computers, among other things, are ruining music these days"), darf man gespannt sein, wie der "Fragile" -Nachfolger klingen wird. Songtitel die bereits bekannt wurden, sind "The Line Begins To Blur", "Every Day is Exactly The Same" und "My Dead Friend". Unterstützung erhielt Reznor im Studio nicht nur von Star-Produzent
Rick Rubin, sondern auch von Drummer Jerome Dillon und Engineer Leo Herrera, die bereits am letzten Album mitarbeiteten, sowie Atticus Ross (u.a Pink, 12 Rounds) und Rich Costey (u.a The Mars Volta,Muse,Cave In).
Mehr Infos demnächst!
(VISIONS Januar-Ausgabe Seite 27)


Bleedthrough-Tour

There are too Roumors about a World-Tour, wich should be started with the Release of the Album

MORE SOON!